Large serving bowl
$199.00
---
Customer Reviews
29 Dec 2020
Reginald Y.

United Kingdom
The dish that hadn't been made.
Disappointed time and again, we concluded 'The dish has never been made'. It had to please both of us and a compromise was ruled out. I found Kariceramics on the web somehow. The products were unique, it was hard to believe. Instinctively I knew our dish would be here. A fruit dish for the dining room table that craved for a remarkable centre piece. We soon realised our search was over, price didn't matter, we loved it. We learned the service was as good as the products. This is our first purchase from Kari, it won't be the last. We won't rush, we enjoy growing rich slowly. And the dish that was never made, graces our room demanding the attention it truly deserves and gets. Reg and Val Young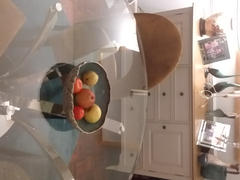 29 Dec 2020
Emily W.

United Kingdom
Large serving bowl
Had fantastic communication from Kari. I ordered a large serving bowl for my Mum for Christmas and she was over the moon with it! Delivery was very quick and well packaged. I would definitely recommend! Thank you again Kari.
11 Nov 2020
Anonymous

United States
Absolutely love it!
The bowl is stunning and enjoys a place of honor on our kitchen island. I want to see it every time I walk into the kitchen. I absolutely love the natural, rustic charm of Kari's pottery. It's beautiful and unique, definitely one of my favorite things!
12 Aug 2020
Joan C.

United Kingdom
Excellent, professional service
The pottery is beautiful, just like it looks on the website. Kari was very responsive, answering questions promptly and thoroughly. The parcel arrived quickly and was very well wrapped.
22 Jun 2020
Kevin C.

Netherlands
Kari and Her Work
Kari is a delight to work with...and I do mean work with as the process is a true conversation where she ensures that she knows what you want and then goes the extra mile to make the reality live up to expectations. And the result? Well, the pictures on the site do not do her work justice!
14 Aug 2019
James T.

United Kingdom
Beautiful custom made bowl
Kari went above and beyond to produce such a beautiful piece for a wedding gift. We got in touch to request if a personalised message could be placed on the bottom of one of her pieces - Kari was beyond helpful and guided us through the process whilst keeping us fully informed of the creation process whilst the bowl was being made. We received photo updates prior to dispatch and the item arrived very well protected. The bowl blew us away and we were thrilled with the final item. Thank you so much!!
Amazing
My first purchase from Kari were two small bowls. They were beautiful and unusual so I decided to order serving bowls. It difficult to describe how amazing they look. They are a fantastic centre piece for the table. I am so pleased I found this pottery. I am saving up for the dinner set. Thank you so much Kari for this wonderful pottery